Viking Dad Bod 2023: Introduction + 7 Questions
Happy New Year, Vikings! It's that fateful time of year where millions of hopefuls begin filling the floors of their local gym with grand hopes of losing weight, getting in shape and beginning new habits. The first of the year is always the most desired time to start something new and embrace change. And while I'm fully aware that most New Years resolutions fail, that most people will give up on their goals and that the majority of New Year goals are unattainable in the first place, I am also not immune from this desire to make change.
I guess the biggest change that I'm handling in 2023 is that I am no longer a part-time personal trainer. It was a hard decision to make but after being offered a big promotion at my full-time gig, we decided it was best for our family and financial future to pursue that and only that. The good news for y'all is that fitness is still and will always be a passion of mine and I hope to continue helping people in different ways, free of charge, for as long as I can.
I'm also beginning the year with a few extra pounds that I'm not terribly crazy about. 2022 was the best year of my life and it involved a LOT of celebration (read: eating junk food and drinking LOTS of booze). We had an engagement party in the spring that was catered by Fazoli's and included a horrible mix of king cake vodka, spiked lemonade, neat bourbon, mead and craft beer. While Katie was on her bachelorette trip over the summer I stayed at home chowing down on mozzarella sticks and pizza for dinner nearly every night. The weeks leading up to the wedding included eating whatever we could whenever we could, then our honeymoon in the Bahamas included daily pizza, breakfast burritos and more cocktails and champagne than I'd ever care to admit. Finally, we celebrated NYE in NOLA complete with gumbo, étouffée, fried shrimp/catfish po'boys, beignets and four hurricanes too many.
Honestly I'm unsure how I survived it all.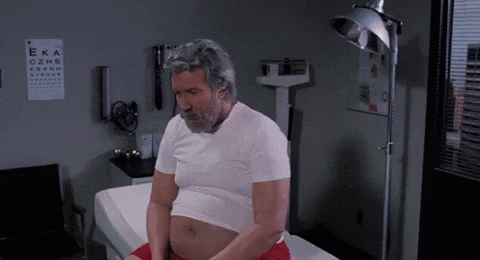 And I figure what better way to kick off my tour of retribution than by announcing a new program that I plan to document?! Ready to talk about it? Let's get to the questions:
Question 1: Dad Bod? What the Hell?
Okay that's valid. Remember a couple of years ago when the dad bod was all the craze? Supposedly it was attractive? Supposedly it was peak masculinity? Those were dark times, boys and girls.
Me naming this program Dad Bod has less to do with the overweight, non-muscular and soft physique sported by Adam Sandler and his ilk and more to do with me wanting to be the strongest, healthiest version of myself before Katie and I start a family. It's something I've never really thought about because I never wanted a family until recently but now that it's on my mind, I feel like I owe it to her and to our future family to give them the longevity they deserve. THAT kind of dad bod. Like a Jason Momoa dad bod.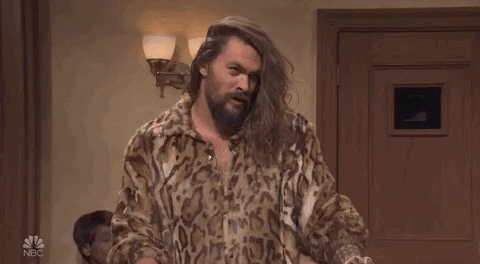 Question 2: What is the Goal?
My family deserves to have a father who is going to be healthy and who isn't embarrassing to be seen with. That means body composition change is definitely a must but I'm also going to be tracking a metric that I've struggled with most of my life -- my blood pressure. In true SMART goal fashion, I've dubbed these goals appropriate. Allow me to clarify:
SPECIFIC: I'd like to get down to 210 pounds, have a body fat percentage of 15% or less and have a blood pressure reading that is at least Elevated (120-129 / <80) but ideally Normal (<120 / <80).
MEASURABLE: I'll be tracking body weight, body fat, body measurements and blood pressure measurements on either a weekly or monthly basis and noting trends.
ACHIEVABLE: I've gotten my weight and body fat down that low before with discipline. High blood pressure runs in my family but I've had it down to Normal before so I know it's possible.
RELEVANT: See above on my motivation for being a healthy, sexy dad.
TIME-BOUND: Katie and I have talked about when we'd like to start -- I'm not at liberty to discuss the specifics. But I want to get in proper working order even before that. My goal time expectation will change based on my performance (as should most goals) but my ultimate goal is to be where I want to be in the next six months (June, 2023).
Question 3: What are the Measurements?
Each month I'll be doing a tape measurement of my waist, taking progress photos and getting a body fat measurement from my trusty bathroom scale (this is what I have). FYI, a bathroom scale like what I have is not the best way to get an accurate reading on your body fat but it's a good way to notice an appropriate trend. It should also be noted that body fat percentages are ball-park at best, regardless of how you measure it.

I will be weighing in every Friday morning on my bathroom scale.

Every Tuesday and Friday I will be measuring and tracking my blood pressure with my at-home tester.
Question 4: What Will be Shared on the Blog?
I intend to share brief weekly updates with beefier monthly updates that track how I've done, what I'm changing, what's working and how I'm feeling. My goal is to be as real as possible here, even sharing my failures and challenges.
Question 5: What is the Programming?
Since my goals include fat loss and heart health, I'm putting more emphasis on cardio than I've had in the last year or so. I'm dropping my strength training days down from 5 to 3 with a high/low split that I'll cover shortly, focusing three days entirely on cardio and spending Sundays resting and recovering. Right now, this is my training split:
Monday -- Strength Training Day 1
Tuesday -- Viking Army Frontline 5K Program (9 Weeks) Run 1
Wednesday -- Strength Training Day 2
| | | | | |
| --- | --- | --- | --- | --- |
| | | | | |
| | | | | |
| | | | | |
| | | | | |
| | | | | |
| | BOSU Atomic Mountain Climbers | | | |
| | | | | |
Thursday -- Viking Army Frontline 5K Program (9 Weeks) Run 2


Friday -- Strength Training Day 3




Saturday -- Viking Army Frontline 5K Program (9 Weeks) Run 3


Sunday -- Rest
Each day concludes with stretching and mobility work to aid in recovery. I've chosen the rep ranges intentionally and you'll notice I work each muscle group twice per week -- once for strength (low rep, high weight) and once for hypertrophy (low weight, high rep). Getting the best of all worlds here!
My intention is to maintain this training split for a total of 12 weeks. The running program is merely nine so after I complete week nine of the running program, I will simply continue repeating that final week for the remainder of the program (three 5ks per week).
Question 6: What About Nutrition/Supplements?
I maintain that you're never going to know what you're putting in your body unless you're accurately measuring it all. With that said, I do not intend to be that strict this go around and will be relying more on an intuitive style of eating. I'll be going back to the tried-and-true Paleo-ish diet that I've had success with many times, primarily because it's sustainable and doesn't require a huge learning curve.
Regarding supplements -- I will be having a protein shake every day (post-workout) made very simply with water and a scoop of BSN SYNTHA-6 EDGE Whey Protein Powder and 5,000mg of creatine from NatureBell Creatine Monohydrate Powder. I do not use pre-workout much anymore and instead rely on the mild caffeine found in EVLultion Nutrition's BCAA Energy supplement (2-3 scoops before workout). Other daily supplements include 1,200mg fish oil for reduced triglyceride levels and lowered cholesterol, 3,000mg ashwagandha for heart health, stress relief, naturally increased testosterone and sex drive, two men's multivitamins for up to 100% daily requirement of certain micronutrients and 250mg of vitamin C to make up for the small amount in my multi and for the added antioxidants.
Question 7: Can You Make a Program for Me?
At one point the answer to this question was always yes but as I've stated in this very post, I'm not in that game anymore. I've detailed nearly every aspect of THIS program here, though, so if you want to follow along, please do!
Anyway, here's the program's beginner stats. Let's see what we can do to change them!
Current Stats:
Date: 1/6/2023
Weight: 235.0
BF: 18.5%
BP: 180/117 (State 3 Hypertension)
BMR: 2,258 Calories
TDEE: 3,500 Calories
Call It: 3,500 Calories
Cut Calorie Requirement: 3,000 Calories
Protein Goal: 230 Grams
Follow me on Instagram for all the fun stops along the way including nutrition tips, workout tricks and motivation from the mind of your favorite Viking!
Ever onward,
-Justin